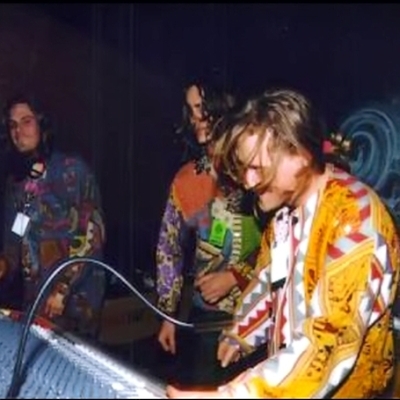 22 – Technossomy – Chameleon
Is Technossomy – Chameleon (Puddle Mix) – Released / MP3 tag reads 'CHAMELEON LIMITD 2005 48K', probably indicating a remastered version.
23 – Technossomy – Elektron Bender
Is the released version from "Synthetic Flesh". The 13 seconds difference is because they cut the long delayed outro. MP3 tag reads 'E BENDER LIMTD 2005-01', probably indicating a remastered version.
24 – Technossomy – Purple Joker
Is Technossomy – The Joker. The presumably unreleased version is just missing a few outro seconds
Notes
• Sixteen tracks in total were once available in MP3 format (VBR) on elisteningpost.com.
• A post by Matt Evans on the (now defunct) alpha-beat.com website announced plans for two Technossomy CD releases (a reissue of their album and another CD with unreleased tracks), which did not materialise.
• The track that appears on DAT as "Technossomy – Skydiver (Doof Remix)" was actually released as "Ohm – Sky Diver (Green Nuns Of The Revolution Remix)".
Contributors
Original page on Discogs curated by Kwulf, assisted by Draeke. Revision and current page edited and curated by Draeke.
* Info/source/samples for 'Ursuland', 'Stoned' by Aidaho
* Info/date/source/BPM/sample for 'Texture I' & Trivia for 'Texture II' by Kyriakos Sunborn
* Info/date/source/sample for 'Texture II' by Cosmogenesis
* Info/sample for 'High Density'; estimated date for 'Ursuland','Stoned', ID for 'Sighting' by Kwulf
* Info/tags/research/archive link for tracks listed on elisteningpost.com by Robostyx, ma05683, marsh, draeke
* Info on 'V.T.O.L.' and comparative notes by Dolmot
* Info/source/samples/dates for for 'Unknown', 'Pyramid (Live Mix)', 'Elektron Bender (Live Mix)', 'V.T.O.L. (Live Mix)' and other comparisons, investigations and notes by Draeke