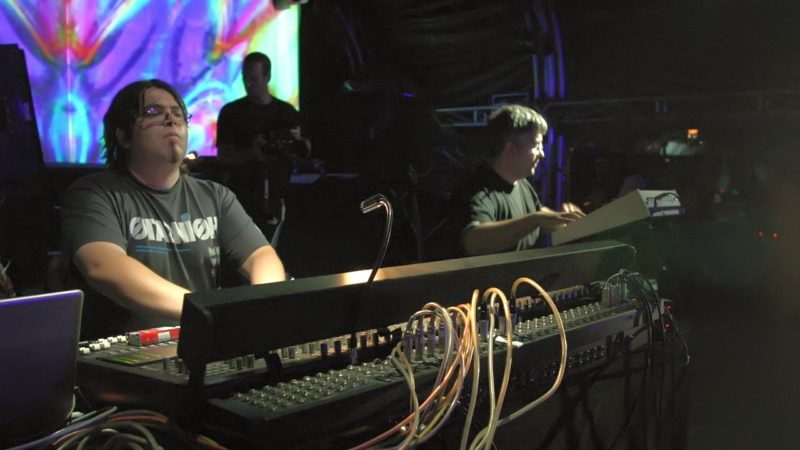 1 – 128 7:25
2000 / Source: DAT from Italy
2 – Acid Level 33 (Remix) 7:07
2001 / Source: Mp3 File
3 – Atlas 8:43
1999 / Source: Wav File
4 – Brain Damage 8:11
1999 / Source: DAT from Greek source, send to Max (Etnica)
5 – Electro Oscillator 7:36
1999 / Source: DAT from Greek source, send to Max (Etnica)
6 – Kiss The Future 7:53
1998 / Source: DAT from Greece
7 – Lunar Sea 9:01
1998 / Source: DAT from Greece
8 – Master Of The Universe 8:42
1999 / Source: DAT from Greece / Listed also as 'Man In The Universe'.
9 – New Order (Insanity Mix) 7:49
1999 / Source: DAT from Greek source, send to Max (Etnica)
10 – Ocean Traveling 9:32
1998 / Source: DAT from Greece / The sample in the beginning says "When I was young I wanted to be either an astronaut or an oceanographer, instead of a space traveler I chose to be an aquanaut, a traveller in the oceans. You'd be surprised how […] between working in the ocean and working in outer space.". At 1:02 "in outer space" is repeated. The sample at 4:10 says "Satellite navigation is a fantastic way of studying the oceans. It allows us to pinpoint where we are even when we're hundreds of miles from the nearest node. Isn't it ironic that devices in outer space help us find our way around the oceans? Click my picture to find out more!" (I think the sample is from a game. I somehow had a feeling of familiarity the first time I heard it.) At 5:21 the track becomes severely wicked with total new layers. Later on the bass lines change too. The last minute is the most insane. A true stomper, and test crash course for your dancing skills! IMO one of their best tracks although I don't like their normal style.
11 – Red Planet 8:54
1999 / Source: DJ from Athens, Greece
12 – Silicozine 8:30
1999 / Source: DAT from Greece / Listed also as 'Indian' and 'Siliconize'. 'Indian' was the original first title of the track (which was a solo track by Mickey) when first composed. Later he changed the name to 'Silicozine'.
13 – Space Toy 8:25
2000 / Source: Mp3 File / The track circulated on P2P sites. Listed also as 'Space Joy'.
14 – This Is The End (Morning Remix)
1999 / Source: Mini-Disc
15 – Tokyo Presents Day 7:16
1999 / Source: DJ from Athens, Greece / Listed also as 'Tokyo, Present Day'.
16 – Wizzy Noise & Manitu – Extinction Limit Available 8:19
2001 / Source: CDr from Greece
17 – Transwave – The Rezwalker (Wizzy Noise Remix) 5:55
1999 / Source: Wav File / Final mix was made in 2001
Unconfirmed Tracks
18 – Angels Night 5:56
200? / Source: Mp3 File
19 – Electro Toys 7:55
200? / Source: Mp3 File
20 – T.H.C. – Time Has Come (Wizzy Noise Remix) 7:30
200? / Source: Mp3 File
Notes
• The track circulated as 'Wizzy Noise – More Expansions' is the track 'Wizzy Noise – Xpanded (Remix)' from Goa Gil tapes.
• The track 'Ocean Traveling' is a remake of the released track 'Indian Ocean' by The Knob
Contributors
• Info/date/source/samples for 'Kiss The Future', 'Ocean Traveling', 'Lunar Sea', 'Master Of The Universe', 'Extinction Limit Available' by Kyriakos Sunborn
• Info/date/source/samples for '128', 'Brain Damage', 'Electro Oscillator', 'New Order (Insanity Mix)', 'Red Planet'; trivia for 'Silicozine' by Draeke
• Info/source/samples for 'Acid Level 33 (Remix)', 'Space Toy'; info for 'This Is The End (Morning Remix)' by Cosmogenesis
• Info/source/samples for 'Silicozine', 'Tokyo Presents Day' by DJ Jordan
• Trivia/comment for 'Ocean Travelling'; source for 'Atlas' by flipie
• Alternate name for 'Master Of The Universe' by outofprintrecords
• Confirmation/info/source/samples for 'The Rezwalker' by the artist, Mike Gekas