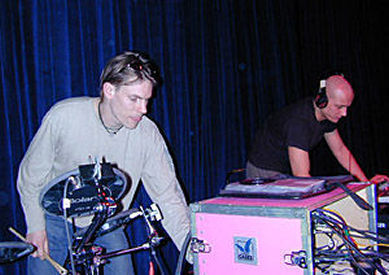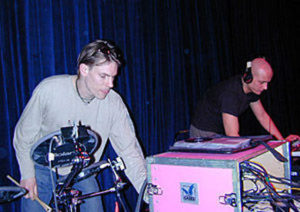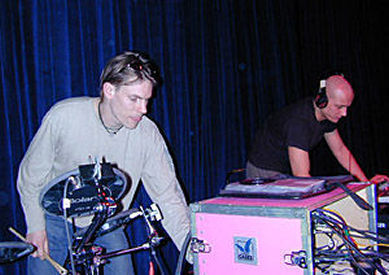 Single Tracks
1 – Dreieck 7:12
1997 / Source: low bitrate MP3 file from Mario Reinsch
2 – Infraschall 7:35
1997 / Source: low bitrate MP3 file from Mario Reinsch
3 – Lineartransformation 8:10
1997 / Source: low bitrate MP3 file from Mario Reinsch
4 – Spannungkreis 7:09
1997 / Source: low bitrate MP3 file from Mario Reinsch
5 – Syncrotron 8:14
1997 / Source: low bitrate MP3 file from Mario Reinsch
Live Sets
L1 – Live At Earth Spirits, Signalwerk Mainz, Germany 68:25
1999-02-29 / Available for download in MP3 format (320 kbps) on Haldolium-Music' Soundcloud page / "The only known recording of Haldolium touring "Deagua", with the Big-Gear-All-Hands-On-The-Synths-Setup of the early years. 2 Sony Mini Disc Players were playing the basic tracks, but special "live versions", all 142 BPM, with things missing and long parts with just Kick&Bass – that holes were to be filled live… The Mini Discs couldn't get beatsynced, so you have traditional outro-intro transitions here. An Atari ST was synchronized manually to sequence the synths and samplers… nudging like you'd nudge vinyl or CD's, speeding up and down with + and – keys until it's on beat… for a couple of minutes). On Stage were Atari ST 4MB, 2 Sony Mini Disc, Korg MS20, Roland SH 101, Roland JP 8000, Roland S330 Sampler, Novation Drum Station, Doepfer MS404, 5 Multi FX devices of questionable quality, 12 Channel Mixer and 2 young trancers."
Tracklist:
1 – Reagua (Intro) 0:00
2 – E.B.M. 2:15
3 – Pandora Prinzip 11:15
4 – Teutonik 22:30
5 – Chronus 32:15
6 – Aggregat 4 40:30
7 – Full Live Improvisation 47:30
8 – Plasma 52:30
9 – Pi-Symptom 59:55
L2 – Live At Soma Loba 64:51
2000-09-02 / Available for listening on Minimal Pکy Boutique YouTube channel / This mix appears sometimes with an error in the date (September 2002) / No tracklist available
Notes
• Post-2000 Live Set:
2002: 'Live At Tacheles Quickhorn'
• Mario Reinsch confirmed that there are no other Pink Floyd remixes of Haldolium. However, more Haldolium unreleased tracks exist: "There is one never heard & never released track from H2 Production and one from Deagua. But both are not quite good".
• 'Haldolium – Dreamland', or 'Haldolium – Dreamland (Radio Edit Remix)', which circulates both as an unreleased track and album on P2P sites, is actually a released track from Ibiza Connection, an ephemeral side project of the duo.
• "Haldolium – Pi-Symptom Remix" (on the "top 10" DAT list of Lars / (DJ) Plastique (Copenhagen – Denmark) for September 1999) and "Haldolium – Protek (Rmx)" (on a list of unreleased tracks by Cujo A Hora) appear as unreleased tracks by this project. However, Mario Reinsch denies that these remixes were made, so these are probably mistitled tracks by other artist(s).
Contributors
• Info/samples for the live sets; note for 'Dreamland' by Cosmogenesis
• Info for 'Pi-Symptom Remix' from psychedelica.goaspace.ru
• Info/samples for the remaining tracks by Mario Reinsch, contacted by ujw34